Spratley's Tyres
You can't beat Spratley's for good value tyres. Just compare our prices with our nearest competitors. You get exactly what you want - great prices and great service. Our prices includes fitting, balancing and VAT.
Should I be checking my tyres in between services?
With extended service intervals on modern cars, checking wear and tear items, such as tyres, has become an expected part of the vehicle owner's responsibility. The tyres on your car are arguably its most important safety feature. They are the sole point of contact between your car and the road, and should ideally be checked on a weekly basis - but in reality how many of us actually do this?
How likely is it that my tyres need checking?
A report published by the AA - "Get a grip" estimates that 1 in 10 British motorists drive with at least one tyre that is illegal. The accepted legal minimum is 1.6mm tread depth, but at this point your tyres are putting you and other road users at greater risk. Independent research shows that worn tyres significantly increase the risk of an accident in the wet.
Spratley's offer a free tyre check and advise on the condition and tread depth of your tyres. Furthermore we offer expert advice on the right tyre for your car.
Why has the EU introduced a Tyre Label?
In order to provide standardised information on fuel efficiency, wet grip and external rolling noise, the European Union has introduced a compulsory label for all new tyres, effective from 1st November 2012. The label is intended to give end-users some essential information to help them when choosing new tyres.
EU Tyre Labelling - How to read the Tyre Label?
Rolling Resistance (Fuel Efficiency)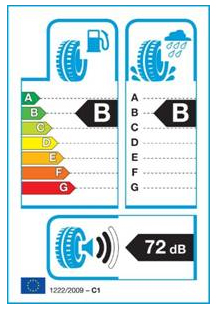 Fuel efficiency is important to reduce both CO2 emissions and the cost of driving. The grades are A to G, with D not being used. The difference between each grade means a reduction or increase in fuel consumption of between 2.5% - 4.5%. That's a difference of about 0.42 - 0.56 mpg for a 36 mpg car per grade.
Wet Grip (Braking Performance)
Wet grip is a critical safety feature and relates to the tyres ability to stop a vehicle quickly on wet roads and can be expressed in terms of stopping distance. The grades are A to G, with D and G not being used. The difference between each grade means an increase or decrease in stopping distance of between one or two car lengths (between 3 and 6 metres) when braking from 50 mph.
Noise (Exterior Noise Emission)
This is the external noise made by the tyre and is measured in decibels. The more black bars shown on the label, the louder the tyre.
EU Tyre Labelling - Your Invoice explained
When fitting your tyre we have naturally have to remove the EU Tyre Label. However in order that you have a record of the 3 different sections of the EU Tyre Label applicable to your tyre we will included a four digit code in the tyre description on your invoice. For example, a tyre with a rolling resistance rating of B, a wet grip rating of B and a noise rating of 72dB will be described as follows: TYRE - RATING BB72
If you would like further information regarding the EU Tyre Labelling please do not hesitate to speak with a member of staff. More information regarding EU Tyre Labelling can also be found on line at the following address - http://ec.europa.eu/energy/efficiency/tyres/labelling_en.htm